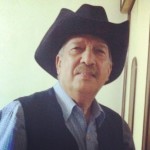 This month, I am excited and proud to feature as our Chef of the Month, one of my favorite chefs, and my earliest inspiration in the kitchen… my dad Robert Dias.
Dad, tell my readers something about yourself.
What do you want to know? I've been a Dad since you were born. I think I am to a point adaptable, self-motivated, result-oriented, creative & the kind of problem-solving person you'd like to have around if you're hungry. Or in your kitchen to make you nervous and tell you to be careful with that knife or whatever you do that does not involve me. I believe that cooking for those one loves is the most satisfying job anyone can ever do, provided those whom one loves are hungry enough not to notice too much till at least half the helping has gone down the hatch.
Many of my friends who have shared a meal with me have concurred with others that food they ate at my place was really yummy. I am not a Fancy Pants in the Kitchen but the simple things I have cooked have left memories on the tongues that tasted it.
What is the first thing you remember cooking? What is your first kitchen memory?
Salt Mother… work that out.
Listening to a Hawkins Pressure Cooker for the 1st time and going crazy with the aromas that were blasted out in Aunt Phillis' Kitchen.
What is your most favorite food?
This is a really hard one to answer.
What is your least favorite food?
Bombay Duck.
Who is your favorite cook?
Without a doubt… was and will always be… my Mother In Law.
Which is your favorite restaurant/cuisine?
I do not enjoy eating out. As for cuisine, Anglo-Indian, South Indian Vegetarian, Chinese, and a few Continental dishes.
What is your "go to" recipe?
My chicken pulao is the quickest to feed two families in 1/2 an hour, and while it is cooking, I can whip up a raita either with boondi or onions, cucumber, tomato, and green chilies. Or if I had the fixings, I would make Club sandwiches; but it would depend on who I'm cooking for and what time of day it is.
Give me two of your favorite recipes and tell me why you like making them?
My 2 favorite recipes are Chicken Pulao and Caramel Custard.
Chicken Pulao
Method: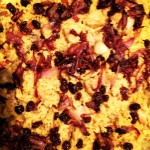 Wash rice and drain. Keep aside.
Wash and cut the chicken breast into 8 to 10 pcs per breast. Keep aside.
In your Pressure Cooker (large enough to hold the rice and Chicken) heat the oil.
Add the whole condiments i.e. cinnamon, black cardamom, 7 to 8 cloves, two segments of the star cardamom, bay leaves and stir fry for 30 seconds. Add the Onions and fry till translucent. Add chopped tomatoes, green chilies, turmeric, all spice powder, all the other ingredients, and curd. Keep stirring, do not let it burn. Fry till oil comes to the top.
Add the chicken pieces and cook for a few minutes, stirring now and then. Add rice, water and taste for salt before you close the cooker.
Close the Cooker. As soon as the steam starts escaping add the weight. Set your timer for 7 minutes.
When 7 minutes are up, switch off your gas and release the pressure. Open the cooker and add the ghee to the top of the pulao.
You may then transfer the Pulao on to a serving dish and garnish with fresh chopped green coriander or crispy fried finely cut onion.
Straight from the Hearth experience:

I tried.  I followed the recipe and It did not turn out the way I had hoped. I grew up eating my dad's cooking… and the special ingredient he adds to his food (his special love) was missing.
Don't get me wrong. It was very good, just not like dad's. I served it garnished with fried onions and a with a side of Boondi Raita.
Here are some comments from my taste testers:
Love it, can't stop munching… Very Good! Thanks!

Delicious. I love it!

Love the Raita.

Mmmm this is really good!
 Ingredients:
3 cups fine rice of your choice.
½ kg Chicken breast
2-3 large Bombay onions, chopped fine
1 tablespoon garlic paste
1 tablespoon ginger paste
2 tomatoes, chopped
3 green chilies, slit in halves and seeded
1 teaspoon turmeric powder
1 teaspoon garam masala
1/4 teaspoon cumin seeds
1 stick cinnamon (2" Broken up)
1 black cardamom
2 segments of star cardamom
7 – 8 cloves
Bay leaves (optional)
1 tablespoon ghee
¼ cup oil
1 cup fresh curd
Salt to taste
Questions?
Please feel free to write to us

Caramel Custard
Method:
Whisk the eggs, milk, and sugar in a blender till the sugar dissolves and the mix is fluffy.
In a suitable vessel, caramelize two table spoons of sugar till golden brown and coat the dish evenly all around approximately to the anticipated level of the whisked Milk/eggs. Allow to cool. Pour in the custard mix, and cover with a proper lid. Place a pressure cooker weight on the lid.
In a larger vessel, heat enough water that allows the filled dish to sit, but not float around.
Close and steam for 20 mts.
Allow to cool, you may refrigerate and serve chilled.
Straight from the Hearth experience: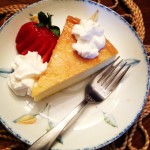 Super easy. I used my hand blender to whisk the custard together and then followed the recipe exactly. It was perfect even if I say so myself.
I served the custard with some strawberries and whipped cream.
Here are some comments from my taste testers:
More mommy.

It was good. I liked it.
 Ingredients:
½ Ltr of whole Milk
6 Eggs
2 serving spoons Sugar
1 Tbs Essence of Vanilla
Questions?
Please feel free to write to us